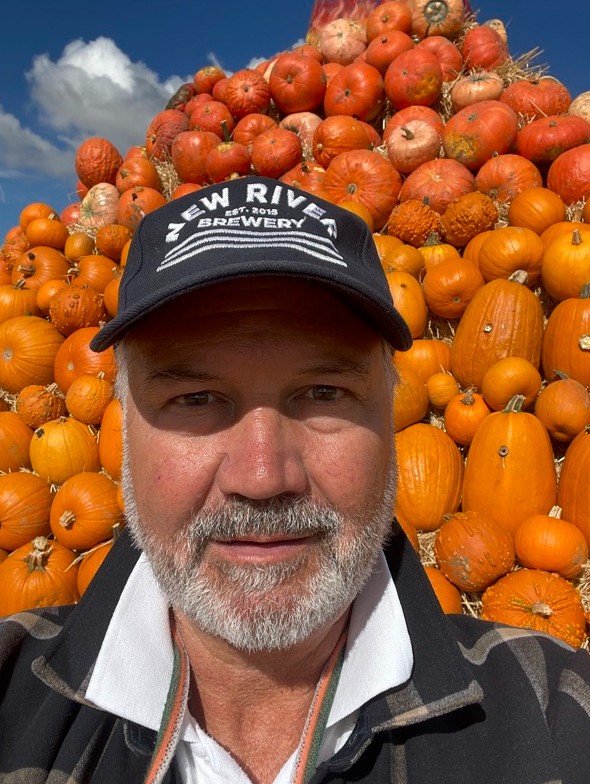 The New River, as any Islington guide will tell you, is neither new, nor a river. The man-made waterway was dug in the early 17th century to bring fresh water from rural Hertfordshire into London.
It has inspired many over centuries including, in 2015, John Bourdeaux who founded a brewery on its banks. Having enjoyed a few pints of their beer, Clerkenwell and Islington guide Nigel Smith was keen to speak with him…
How did you come to set up the New River Brewery?
Going to the pub and drinking beer have always been a big thing in my life. When I was young, I used to make homebrew. In my previous life I was an accountant. I left my job in 2013 and became a consultant. As part of that work I investigated the craft beer market, and did quite a lot of research into it. There were about 2000 microbreweries in the country at the time and it was growing. I just thought I'd join this trend and if no one else wants to invest in this idea, I will!
How did you prepare to open the brewery?
A friend joined me and we set up the brewery together in 2015. I trained as a brewer in Sunderland at a place called Brewlab. I also visited a lot of local breweries and did research into pubs and the ownership structures that go behind them. It was quite painstaking and I enjoyed it immensely!
Was it always going to be called the New River Brewery?
Yes. The New River has been around for donkey's years but I would argue it's not well known and I felt this would be a good opportunity to raise its profile.
My wife Brenda and I have lived in Enfield for almost 30 years. Enfield is blessed with one of the original New River loops. It's been short circuited and is redundant but it's a great habitat for wildlife and is still a big feature of the local area.
When I was looking for premises we managed to find somewhere that literally backs on to the New River. Our brewery is situated 50 yards from the New River in Hoddesdon. Hoddesdon used to be one of Hertfordshire's largest brewing towns – a massive employer in the region. The whole area was populated by maltings, and they would ship malt for the larger breweries into London on the River Lea, which runs adjacent to the New River. Our water is drawn from sources that feed the New River. So it all became quite interconnected and quite kind of compelling as a brand. And, we love the connection.
One of the facts about the New River us tour guides often mention is that the flow of the river drops five inches every mile so I love that you have a beer called Five Inch Drop. What other New River-inspired beers do you produce?
We have a beer called Blind Poet. There's a little anecdote I thought was quite amusing about a poet called George Dyer who was partially sighted. He apparently enjoyed a pint and used to go for dinner quite regularly with his friend, the writer Charles Lamb. There's a story that one evening he left Lamb's house and, forgetting to turn right as he left, ended up taking a dip in the New River. That probably sobered him up fairly quickly!
The Twin Springs is to do with the Amwell and Chadwell springs that used to source the water for the New River. And the Riverbed Red was named after the clay that they used to line the New River with to prevent it from leaking
Are there any other aspects of the New River's history that resonated with you?
For me, the fact that it's flowed pretty much uninterrupted for 400 years is what's most fascinating. I believe its flow was interrupted only once when a parachute mine landed on the old Dame Alice Owen School in Islington where about 100 people were taking shelter in the basement. The bomb also destroyed the New River water main that went into the reservoir near Sadlers Wells.
Finally, and most importantly, where can people find your beers?
We produce two to three thousand litres of beer a week. You can buy all our beers directly from us on our website. We also deliver beer to real-ale pubs all over London and even as far as Cambridge and St Albans.

You'll learn more about the New River on Nigel's Evolving Islington walking tour. To find out more about the New River Brewery and buy their beers visit newriverbrewery.co.uk.