Welcome to the May newsletter from Clerkenwell & Islington Guides, with a range of fascinating walks and places to explore during the coming month, starting with:
Caledonian Tower Tours
The Caledonian Tower tours run by Islington Guided Walks on behalf of Islington Council have some additional dates this summer. Tours are now running weekly on Saturdays  from 6 May and NEW evening tours will start on 6 June. These  evening tours will be just 45 minutes long, and will offer an opportunity to climb the tower in the hours before sunset, and to see right across London to Crystal Palace and beyond. The cafe in the park will be open in the evenings for refreshments as well. Tours are free but booking on Eventbrite is essential. The booking link is here and the drop menu lists all available dates.
Cultural Clerkenwell
Walk in the footsteps of Shakespeare and Dickens and see contemporary art in London's oldest parish church.
Since the middle-ages, when religious pageants were held on the banks of the River Fleet and entertainers performed at the annual Bartholomew's Fair, Clerkenwell has been a part of London steeped in cultural history.
Theatre, literature, music, film, architecture, food, sculpture and visual art spanning the last 900 years are all covered as we wander the streets and alleys of this atmospheric neighbourhood.
In addition to following in the footsteps of William Shakespeare and Charles Dickens, along the way you'll hear how William Morris, Agatha Christie, Vladimir Lenin, William Hogarth and Benjamin Franklin have all left their mark on Clerkenwell.
In London's oldest parish church you'll see a striking sculpture by one of Britain's most controversial artists. Down hidden alleyways you'll find out about one of London's great 17th-century theatres, a pioneering architectural partnership and an unsung champion of classical music. You'll also see why this historic area has been a location for some of Hollywood's biggest movies. And you'll get the chance to see close-up the site that gave Clerkenwell its name.
The tour lasts about 2 hours. It starts outside Barbican underground station (Hammersmith & City line) and ends at Farringdon station.
Walk Dates: Friday 12 May 2.30pm, Saturday 20 May 3pm, Saturday 24 June 10.30am and Saturday 22 July 10.30am, and the walk can be booked at this link
St Mary's Church, Islington – A Guided Tour
Discover the history of Islington's first parish church and enjoy a panoramic view across London from its 18th-century tower.
St Mary's, Islington on Upper Street has played a central role in the history of Islington for a thousand years. During this time several different churches have stood on the site, leaving an eclectic range of architectural styles.
On this 90-minute guided tour you'll learn about the 12th-century Norman church and its 15th-century medieval successor. In the 18th century it was completely rebuilt, lasting until 1940 when St Mary's became the first London church to be destroyed in World War II. Only the tower and steeple survived the bomb; the main body of the church was rebuilt in 1956, a fascinating example of post-war reconstruction and design.
As well as providing a glimpse into the history of St Mary's and how it has influenced Islington today, you'll also have the opportunity to climb the 120 steps to the top of tower, giving you a bird's-eye view over London.
This tour is now booking until the end of May, and tickets can be found at this link.
Archway My Way
I've lived in Archway for over thirty years. Let me show you my manor!
Archway has recently had a make-over; its brutalist tower has been re-clad and now houses rented apartments, the two other office blocks have been converted into a hotel and apartments, the controversial gyratory system has been abolished and replaced by a new town square. But this is just another chapter in Archway's long history.
On this walk we will:
Hear about Archway before and after the make-over
See the place where Dick Whittington famously turned again
Learn why a bridge was built where there should have been a tunnel
Hear how priests disguised themselves to buy a pub
Get fabulous panoramic views from some of the highest points in London
And more
And if you fancy a bit of retail therapy, this is possibly the only guided walk that exits through the gift shop (but not for much longer as it's sadly closing down in June)!
Walk Date: 12th May 2023 2:30pm, and booking is on this link.
Forgotten Fun: Islington's Lost Entertainments
On this two-hour tour we'll be walking through the many ways that Islington has met that most unusual of human needs: the need to have fun.
Fun, like all culture, is subject to the whims of fashion, and Islington is littered with traces of activities and institutions that have gone from ubiquity to obscurity. We'll explore Islington's time as a land of pastoral excess; the antics of various rock-n'-rollers; the food; the fads; and the fights.
The walk begins outside Angel station and ends near Highbury and Islington station. Due to some mature themes, the walk is recommended for ages 15+ . Walks Dates are:
7th May 2023 13:30
13th May 2023 13:30
20th May 2023 13:30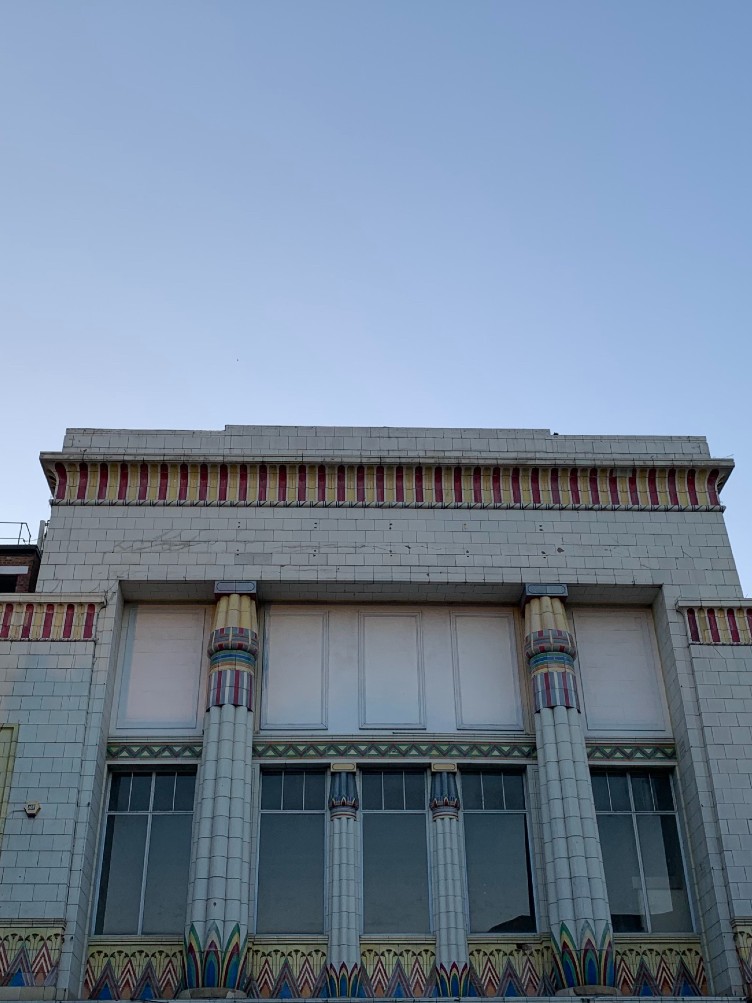 Islington's Big Screens: From Silents to Super-Cinemas
A stroll through more than 100 years of Islington cinema-going; all between Angel and Essex Road stations. We'll encounter Victorian showmen, architectural wonders and tales of bad behaviour in the stalls. Come to discover hidden gems and hear what a night 'at the flicks' was like decades before multiplexes.
In addition to such landmarks as the Screen on the Green, you'll see some buildings that were once cinemas as well as a few intriguing places where all trace of their cinematic past has vanished.
This walk takes place on multiple dates, starting on Saturday the 20th of May, and can be booked here.
All Around the Houses: Essex Road to the Regent's Canal
Keep it to yourself, but the streets between Essex Road and the Regent's Canal form one of Islington's hidden pockets of tranquility and beauty.
See a microcosm of Islington's history, heritage and housing in this area's architecture, waterways, gardens and pubs and discover its close ties to the ancient City of London.
This guided walk in the area will let you in on its secrets. Highlights include:
– Islington's early story from the Domesday Book to the 1500s.
– Mid 19th century terraced houses and social housing from the 1800s to the 2000s.
– A Victorian church and almshouses with historic ties to the City of London.
– A school with links to Pink Floyd and a mural commemorating the New River.
– The Regent's Canal.
– An award-winning public garden square maintained by local residents.
– A community pub, where the tour will end (with a drink for those who would like one!).
The walk will take between 90 mins and 2 hrs. Please be prepared for all weathers!
Part of the proceeds from this walk will support the Arlington Association's fund-raising for local charities and to maintain Arlington Square's garden.
Part of the proceeds from this walk will support the Arlington Association's fund-raising for local charities and to maintain Arlington Square's garden.
The Walk Date is the 27 May 2023 14.30, and the walk can be booked at this link.
Beautiful Barnsbury
See fine Georgian squares, secret gardens and London's smallest nature reserve, while learning about the area's history.
Dating back to the Domesday Book of 1086, Barnsbury was for centuries a rural manor set back a little from the busy Islington main road of Upper Street.
In the 18th century its open fields, fresh water springs, pleasure gardens (and forerunner of the world's most famous cricket ground) were built over by developers. This brought the growing middle classes into the area, but in the 19th century it was not immune to industrialisation, overcrowding and a workhouse for the poor.
Today, Barnsbury is one of inner London's most beautiful areas, tucked away between Upper Street and Caledonian Road.
The walk lasts around two hours. Please be prepared for all weather conditions!

The Walk Date is the 16 May 2023 14.00, and the walk can be booked at this link.
Canonbury Tower Tour
Canonbury Tower Tour's have been booking up very quickly, however there are a couple of dates in May with availability and more dates have been added, The tour includes the opportunity to see inside the oldest building in Islington and enjoy a magnificent view for miles over London from the roof of its tower.
The Canonbury Tower Tour can be booked here.
Forged in Islington: A History of Local Type Foundries 
The creation of the printing press changed the world as we know it. But until the 18th century, London imported most of its type from Holland. William Caslon changed everything by opening his foundry in Chiswell St, Islington and his famous and eponymous typeface is known globally today.
This is a free talk by Chris Rule of the Greater London Industrial Archaeology Society at the Islington Local History Centre on Monday the 22nd of May.
Tickets are free, but must be reserved at this link.
We hope you have found something of interest in the above listing, and our next newsletter will be on the first Sunday of June.