Welcome to the Clerkenwell & Islington Guides newsletter for November 2023. In the weeks between newsletters, our calendar of walks is updated regularly, and can be found at this link.
BECOME A CLERKENWELL & ISLINGTON TOUR GUIDE
Applications are now open for the 2024 course which will run from Wednesday the 10th of January to Wednesday the 17th of July 2024. Interviews will take place during the week beginning the 20th of November 2023.
The course will lead to a professional qualification in tour guiding, and will cover the fascinating history of Clerkenwell and Islington.
Further details and the form to use for submitting an application can be found at this link.
To help those who would not otherwise be able to afford a guiding course, the Jane Duffield Bursary Charitable Trust provides bursaries or other support for applicants for tour guide training courses in Greater London. Full details can be found at this link.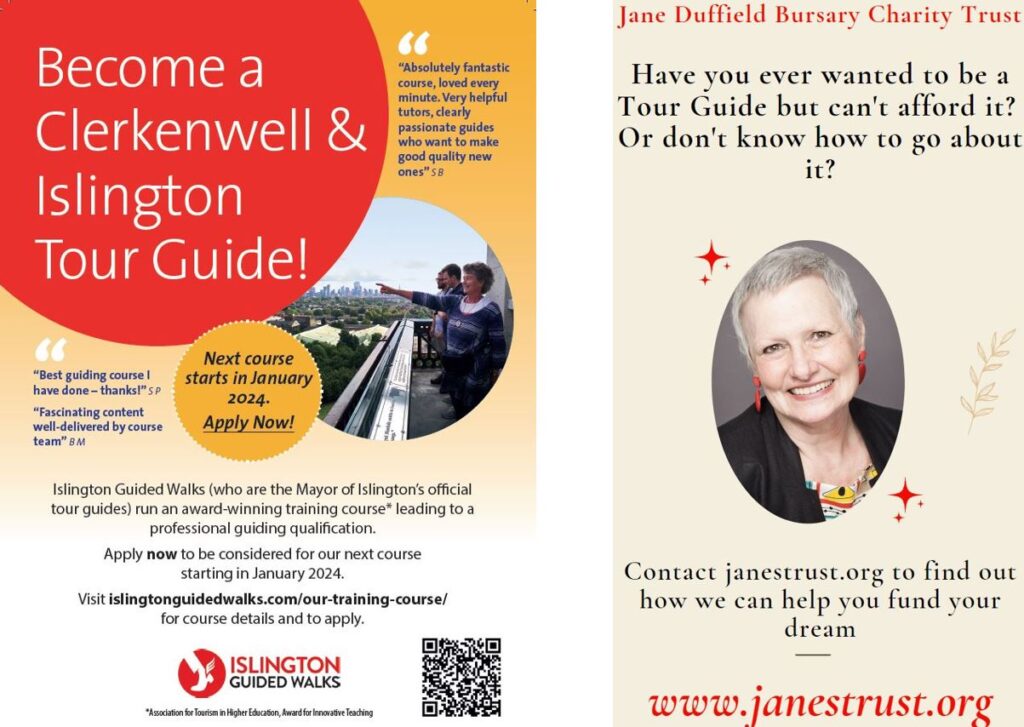 CANONBURY TOWER TOUR
Canonbury Tower was built in the late 16th century and is a rare survivor of Tudor domestic architecture in London. The Tower was added onto a manor house built in the early 1500s as the country retreat of the Canons of St Bartholomew's Priory in Smithfield.
On this 90-minute tour you'll see the existing Tudor interiors and hear about the many notable characters associated with the building. Over the centuries these have included Thomas Cromwell of Wolf Hall fame, Henry VIII's fourth wife, Anne of Cleves, Francis Bacon and the writers Washington Irving (Sleepy Hollow) and Oliver Goldsmith (The Vicar of Wakefield). You'll also have the chance to climb up to the rooftop which affords wonderful views over London in all directions.
Canonbury Tower is owned by the Marquess of Northampton and has been in the same family since the 16th century. All visitors are guests of the seventh Marquess, Spencer Compton.
A visit to Canonbury Tower can be booked here.
'BEATING THE BOUNDS' FROM KING'S CROSS TO FARRINGDON
A historic walk winding either side of the border between Camden and Islington boroughs – also the route of the now-buried River Fleet. We will see signs of the river course, traces of wells and tributaries, seek out border markers and explore varied architecture from pretty Georgian houses to old warehouses and religious orders.
The walk takes place on Sunday the 12th of November and Wednesday the 29th of November and can be booked here.
THE REGENT'S CANAL: THE ANGEL TO HACKNEY
A weekday winter's morning canal walk, strolling east from the Angel and ending near Hoxton. A mix of canal history, horse stables, trendy apartments, cafes, tranquil basins and wildlife at a time of year when the towpath is usually relatively quiet.
The walk takes place on Wednesday the 22nd of November and can be booked at this link.
ISLINGTON'S BIG SCREENS – A CINEMATIC WALKING TOUR
A stroll through more than 100 years of Islington cinema-going; all between Angel and Essex Road stations. We'll encounter Victorian showmen, architectural wonders and tales of bad behaviour in the stalls. Come to discover hidden gems and hear what a night 'at the flicks' was like decades before multiplexes.
In addition to such landmarks as the Screen on the Green, you'll see some buildings that were once cinemas as well as a few intriguing places where all trace of their cinematic past has vanished.
The walk takes place on Saturday the 9th of December and can be booked here.
CULTURAL CLERKENWELL
Since the middle-ages, when religious pageants were held on the banks of the River Fleet and entertainers performed at the annual Bartholomew's Fair, Clerkenwell has been a part of London steeped in cultural history.
Theatre, literature, music, film, architecture, food, sculpture and visual art spanning the last 900 years are all covered as we wander the streets and alleys of this atmospheric neighbourhood.
In addition to following in the footsteps of William Shakespeare and Charles Dickens, along the way you'll hear how William Morris, Agatha Christie, Vladimir Lenin, William Hogarth and Benjamin Franklin have all left their mark on Clerkenwell.
In London's oldest parish church you'll see a striking sculpture by one of Britain's most controversial artists. Down hidden alleyways you'll find out about one of London's great 17th-century theatres, a pioneering architectural partnership and an unsung champion of classical music. You'll also see why this historic area has been a location for some of Hollywood's biggest movies. And you'll get the chance to see close-up the site that gave Clerkenwell its name.
The tour lasts about 2 hours. It starts outside Barbican underground station (Hammersmith & City line) and ends at Farringdon station.
The walk takes place on Saturday the 9th of December and can be booked at this link.
ST MARY'S CHURCH, ISLINGTON – A GUIDED TOUR
Discover the history of Islington's first parish church and enjoy a panoramic view across London from its 18th-century tower.
St Mary's, Islington on Upper Street has played a central role in the history of Islington for a thousand years. During this time several different churches have stood on the site, leaving an eclectic range of architectural styles.
On this 90-minute guided tour you'll learn about the 12th-century Norman church and its 15th-century medieval successor. In the 18th century it was completely rebuilt, lasting until 1940 when St Mary's became the first London church to be destroyed in World War II. Only the tower and steeple survived the bomb; the main body of the church was rebuilt in 1956, a fascinating example of post-war reconstruction and design.
As well as providing a glimpse into the history of St Mary's and how it has influenced Islington today, you'll also have the opportunity to climb the 120 steps to the top of tower, giving you a bird's-eye view over London.
This tour is now booking on dates in November and December, and tickets can be found at this link.
Our next newsletter will on the first Sunday in December.