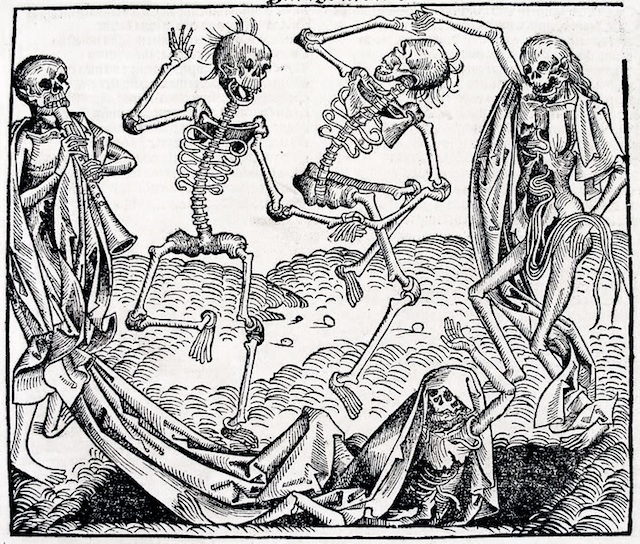 Holbein's Danse Macabre from Wikimedia
Walk Macabre: Dispatching the dead in Smithfield and Finsbury
During "Walk Macabre", Jiff Bayliss explores some of London's most ghoulish last resting places. Robert Bard, author of "Graveyard London" commented that "many hundreds of generations of Londoners lie beneath the City feet without us knowing"; this walk suggests they were the lucky ones.
Starting at the site of Newgate Prison and continuing through Smithfield to Bunhill cemetery, it explores executions, pestilence and lost burial grounds. Aimed at a general audience and those with an interest in history's darker side, see where many Londoners met a literally sticky end. After the walk, you'll wonder whether every open plot in central London was once someone's graveyard.
Meets outside the Caffe Nero shop just outside exit 2 of St Paul's Underground station – look for the man in the Stove Pipe hat.  You can check travel options at the Transport for London Journey Planner.  The walk finishes near Old Street Underground and will take  two hours to complete.    No booking required – turn up and pay on the day (currently £8/£6 concessions).   You can contact the guide before the walk at [email protected].