Welcome to our newsletter of walks and events for October 2023.
For this month, we start with:
Become a Clerkenwell & Islington Tour Guide
Firstly, an important announcement regarding our training course. Applications are now open for the 2024 course which will run from Wednesday the 10th of January to Wednesday the 17th of July 2024. Interviews will take place during the week beginning the 20th of November 2023.
The course will lead to a professional qualification in tour guiding, and will cover the fascinating history of Clerkenwell and Islington.
Further details and the form to use for submitting an application can be found at this link.
There is also a Meet the Guides event on Wednesday 1st November at 6:30pm. Link for Details and to Book is here: https://Meet-the-Guides.eventbrite.co.uk
To help those who would not otherwise be able to afford a guiding course, the Jane Duffield Bursary Charitable Trust provides bursaries or other support for applicants for tour guide training courses in Greater London. Full details can be found at this link.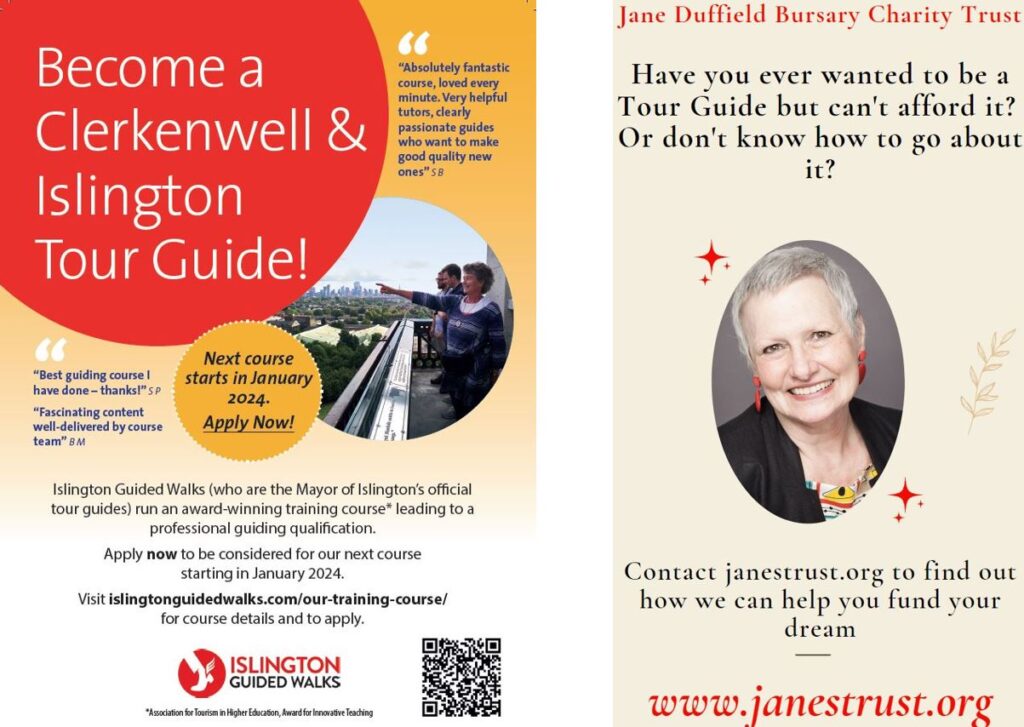 Our New Walks and Events Calendar
We have a range of walks and events run by, or featuring Clerkenwell & Islington Guides. These appear in this monthly newsletter, and for an up to date view of all our walks and events, we have introduced a new calendar which can be found on the home page of our website.
The calendar allows the user to view walks and events in list format, or by day or month. The follwing image shows a snapshot from the calendar, so please give it try, at this link.
Local London Guiding Day
Local London Guiding Day takes place next Saturday, the 7th of October:
The contribution to the day from Clerkenwell & Islington Guides is:
From Archers to Wizards
Meeting point: Outside Angel tube station, by the benches in front of NatWest bank, Islington High Street, N1 8XX.
Five hundred years of Islington history told through the people who influenced politics and culture. Meet the man who gave us drinking water and hear about an author who imagined a whole new fantasy world. Find out about a woman who gave away a great fortune, a pacifist MP, and a beloved princess whose untimely death changed the nation.
Details of all the walks can be found on the Local London Guiding Day website at this link.
And now some our the walks planned for October:
Village Islington
Amid the cafes, estate agents and fashionable shops of Upper Street, today's Islington has some clues to its rural and agricultural past. It was a different place 250 years ago. People came to enjoy the cleaner air and escape the City of London. It was a major route out of London and was dominated by cattle farming. On this walk we will uncover these clues, starting outside the Angel tube station and finishing near to Highbury and Islington tube station.
Walk Date: 1st October 2023, 11.00am until 12.45pm Click here for details and booking.
Canonbury Tower Tour
Canonbury Tower was built in the late 16th century and is a rare survivor of Tudor domestic architecture in London. The Tower was added onto a manor house built in the early 1500s as the country retreat of the Canons of St Bartholomew's Priory in Smithfield.
On this 90-minute tour you'll see the existing Tudor interiors and hear about the many notable characters associated with the building. Over the centuries these have included Thomas Cromwell of Wolf Hall fame, Henry VIII's fourth wife, Anne of Cleves, Francis Bacon and the writers Washington Irving (Sleepy Hollow) and Oliver Goldsmith (The Vicar of Wakefield). You'll also have the chance to climb up to the rooftop which affords wonderful views over London in all directions.
Canonbury Tower is owned by the Marquess of Northampton and has been in the same family since the 16th century. All visitors are guests of the seventh Marquess, Spencer Compton.
This tour takes place on multiple dates in October, and can be booked at this link.
St Mary's Church, Islington – A Guided Tour
Discover the history of Islington's first parish church and enjoy a panoramic view across London from its 18th-century tower.
St Mary's, Islington on Upper Street has played a central role in the history of Islington for a thousand years. During this time several different churches have stood on the site, leaving an eclectic range of architectural styles.
On this 90-minute guided tour you'll learn about the 12th-century Norman church and its 15th-century medieval successor. In the 18th century it was completely rebuilt, lasting until 1940 when St Mary's became the first London church to be destroyed in World War II. Only the tower and steeple survived the bomb; the main body of the church was rebuilt in 1956, a fascinating example of post-war reconstruction and design.
As well as providing a glimpse into the history of St Mary's and how it has influenced Islington today, you'll also have the opportunity to climb the 120 steps to the top of tower, giving you a bird's-eye view over London.
This tour is now booking in October, and tickets can be found at this link.
Archway my way
I've lived in Archway for over thirty years. Let me show you my manor!
On this walk we will:
Hear about Archway before and after its recent make-over
See the place where Dick Whittington famously turned again
Learn why a bridge was built where there should have been a tunnel
Hear how priests disguised themselves to buy a pub
Look out across London from Archway's little-known viewpoint
And more
The walk takes place on the 12th October 2023, at 14:00, and more details and booking can be found at this link.
Promenades, Punks, and Pints of Port: Islington's Lost Entertainments
On this two-hour tour we'll be walking through the many ways that Islington has met that most unusual of human needs: the need to have fun.
Fun, like all culture, is subject to the whims of fashion, and Islington is littered with traces of activities and institutions that have gone from ubiquity to obscurity. We'll explore Islington's time as a land of pastoral excess; the antics of various rock-n'-rollers; the food; the fads; and the fights.
The walk begins outside Angel station and ends near Highbury and Islington station. Due to some mature themes, the walk is recommended for ages 15+.
This walk will take place on the 14th October 2023, at 13:30 and the 28th October 2023 at 13:30, and can be booked at this link.
Our next newsletter will be on the first Sunday of November.